Sliabh Liag Distillery and Silkie Irish Whiskey
Andrew O' Gorman, Secretary Irish Guild of Sommeliers
Published in SommelierS International Magazine – Issue 164 – May 2019
Donegal has a long history of distilling, and while the majority of that distilling was classed as illegal, the county was renowned far and wide for the quality of spirits produced, namely the unregulated spirit – Poitín. By the 1850,s, Donegal was thought to have more illicit stills than the rest of Ireland put together but since the closure of the Burt Distillery in 1841 the area has been left bereft of a legitimate distilling presence. The Sliabh Liag Distillery aims to reclaim the Irish distilling heritage of Donegal, and to create brands that are inspired by both place and people.
James and Moira Doherty, the founders are no strangers to the drinks industry, James has worked in the branded spirits and beer industry for over twenty years. They launched the first legal distillery in Donegal in almost 180 years. The Sliabh Liag Distillery launched its first expression, an independent bottling of Irish Whiskey named Silkie in 2016. Silkie is inspired by the legends long told along the coasts of Donegal of the Silkie or Silkie seals. Silkies take the form of seals in the ocean, and irresistibly beautiful women when they come ashore. On the nose Silkie Whiskey is fresh and malty, bright notes of green apple and a gentle honeyed butteryness. The taste is super soft, exceptionally smooth and elegant, with lively hints of orange zest and stem ginger. On the finish it is warming, graceful and gently melts away. The blue green of the label reflects the colour of the Wild Atlantic from the cliffs at Sliabh Liag in Donegal.
Sliabh Liag: Sliabh means mountain and Liag means flagstones. Sliabh Liag stands sentinel over County Donegal on Ireland's Wild Atlantic coast. Often described as "a place apart" this remote and beautiful land holds the terroir, heritage and folklore for our team of scatterings to embark on an exciting distilling journey.
TERROIR
It lacks any English or indeed Irish translation, but the French have a word, a romantic and mystical term, for the synergy between soil, climate, tradition and terrain.
It is this synergy that creates the finest of liquids. On the Sliabh Liag peninsula, surrounded by blue-green seas and punctuated by ancient imposing mountains, fairy glens and beaches of silver sand, the stunning landscape is home to vast expanses of heather and peat bogs, formed by abundant rainfall over thousands of years.
Mixed with the fragrant sea spray from the wild Atlantic, the air is strikingly fresh, bracing and leaves a slight salty tang of the sea on the tip of your tongue.
If terroir does have a bearing on spirits, then the Sliabh Liag peninsula is ideally suited to creating wonderful liquids.
DONEGAL'S DISTILLING HERITAGE
Donegal is steeped in a history of legal and illicit distillation, and the Sliabh Liag peninsula and the parish of Glencolmcille were among the most prolific Poitín producing areas in the County. Aeneas Coffey (1780–1839) was an Irish inventor and distiller whose work on continuous distillation transformed the industry  referred to distilling in the mountainous parts of Donegal as being where illicit distillation "has been carried on from time immemorial and been the principal occupation of almost the whole population".  Poitín, anglicized as poteen is a traditional Irish distilled beverage (40%–90% ABV). Poitín was traditionally distilled in a small pot still and the term is a diminutive of the Irish word pota, meaning "pot"
TASTING NOTES of Silkie Irish Whiskey
Colour – Straw gold with hints of amber.
Nose – Fresh and malty, brisk like green apples, opens to be more honeyed with a gentle butteryness.
Taste – Super soft, honey to the fore, bright, hints of orange zest, digestive biscuits, brioche, butterscotch and stem ginger.
Finish – Warming, elegant and gently melts away.
Glass
The TÚATH (tu – ah) – from the old Irish for family or nation, is a conical shaped nosing and tasting glass for whiskey that functions superbly by concentrating & capturing all the aromas and flavours that make Irish Whiskey unique.
The generosity of Irish spirit is reflected in the enhanced chamber capacity delivering a more generous drinking experience.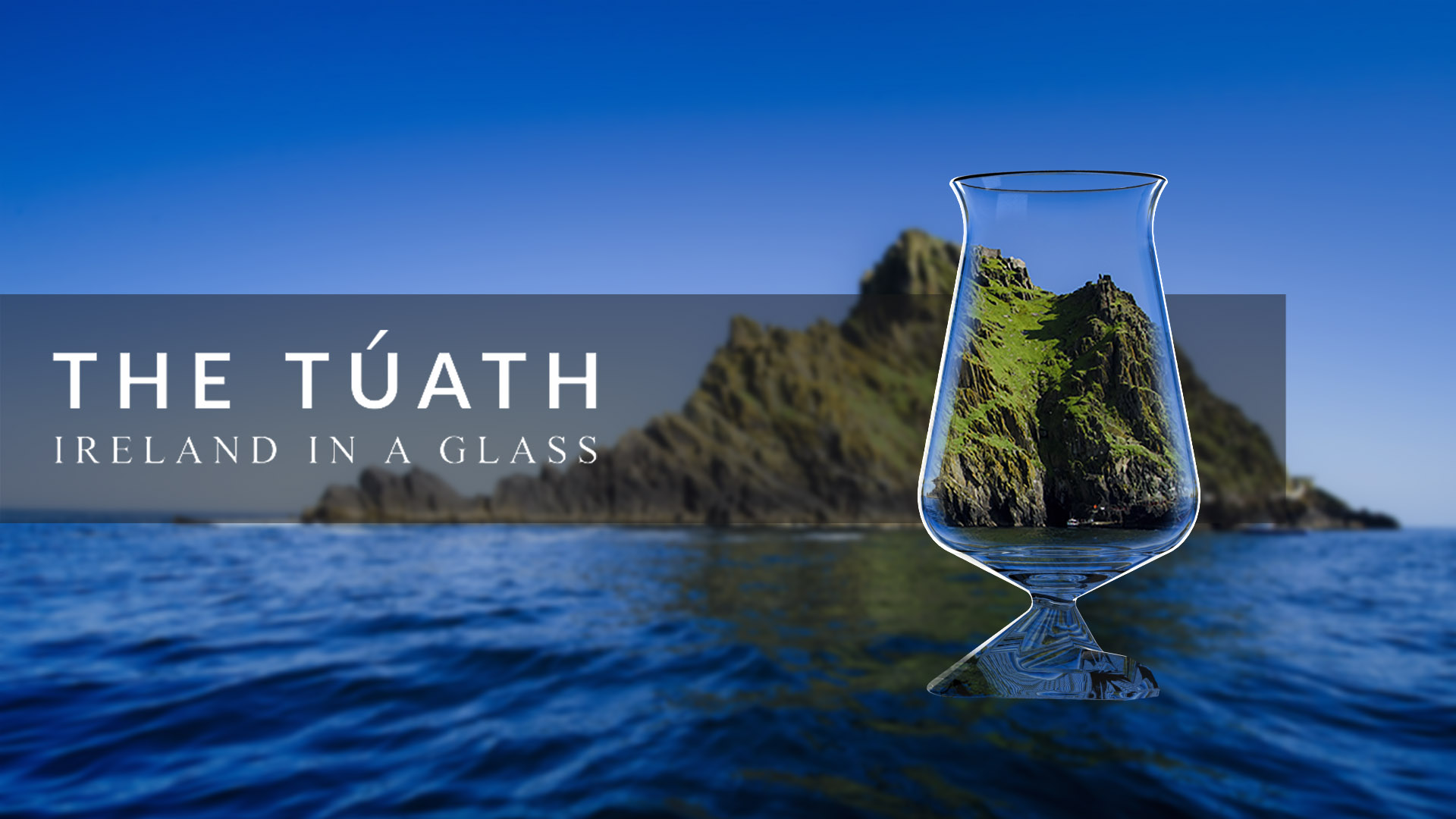 Deirdre Byrne, Marketing Manager Sliabh Liag Distillery stated "there are many ways to enjoy this whiskey. It can be consumed neat or with ice, it is also a great whiskey in cocktails due to its light and delicate style. Bartenders and sommeliers especially like to make cocktails with Silkie Irish Whiskey which allows them to experiment with their creativity and set their own specifications when it comes to creating original cocktails". Deirdre won a gold at the World Cocktail Championships in Prague 2013.
Deirdre Byrne with Andy O' Gorman
A personalised bottle of Silkie Irish Whiskey was presented to William Wouters, President of the Belgian Sommeliers Guild by Oliver Murtagh President Irish Guild of Sommeliers at the ASI world Sommelier Contest in Antwerp, Belgium during March 2019.
The distributor for Silkie Irish Whiskey in Belgium is Munros Beers and Spirits, Walhain.     https://www.munros.be/our-products/  Munros sprl Rue des Ourdons, 9/5, 1457 Walhain, Belgium    Mobile & Landline : +32 10 65 24 65
I conducted a tasting of Silkie Irish Whiskey for a number of delegates attending the ASI World Sommelier Contest and they found this a very interesting Irish Whiskey outlining a number of differences from other Irish whiskies which they were familiar with. They also thought that the bottle was very elegant and were interested in the story of the name Silkie along with an explanation of the words Drioglann, Sliabh & Liag.
The Original Irish Coffee Recipe made with Silkie Irish Whiskey
Preheat your Irish coffee glass by filling it with boiling water for 5 seconds, then pour the water out.
Add 1 teaspoon of brown sugar and a good measure of Silkie Irish whiskey into the warmed glass.
Fill the glass to within 1 cm of the brim with hot, strong black coffee. Stir well to dissolve all the brown sugar.
Carefully pour lightly whipped cream over the back of a spoon so that it floats on top of the coffee.
Do not stir after adding the cream; optimal flavour comes from drinking the coffee and Silkie Irish whiskey through the cream. 
Silkie Irish Whiskey makes a beautiful Irish Coffee – Sláinte